Dancing with Charities – The New Fred and Ginger of Northampton!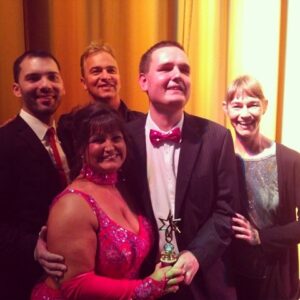 As you know, we competed in the Northampton Asda Dancing with Charities, dancing with 10 other couples all of us raising funds for our causes.
My partner Hugh Spence is an amazing mover and doesn't let a little thing like being blind stop him from strutting his stuff. My biggest challenge initially was learning to do as I am told…. Yes unbelievably I did manage to take direction, suggestions and the occasional scolding from Doris. Thank you Doris x.
The night was amazing, bright lights, the pinkest dress you have ever seen and a fantastic atmosphere from the audience who came along to support us all.
Hugh was on form and we nailed the first dance, the American Smooth Waltz, my personal favourite, scoring straight 10's from the judges. Then came the Cha Cha Cha Cha Cha (how do you stop saying this?) Hugh's favourite dance, we got three 10's and a 9! Putting us through to the final.
We were delighted to make it to the final with four other couples. It was a tough competition as everyone danced beautifully and had worked so hard on their routines. I would not have liked to be in the judging seat!
This was it, our big moment, we danced the American Smooth Waltz again, both Hugh was very pleased with our performance, I was just happy I stayed in my dress!
Once we had all danced our socks off, the judges called all remaining five partners to the front of the stage… talk about tense! There was a drum roll and I swear my heart was beating faster! Then a fanfare sounded and the winner was announced… US! Yey!
The feeling is indescribable, you should have seen Hugh's face!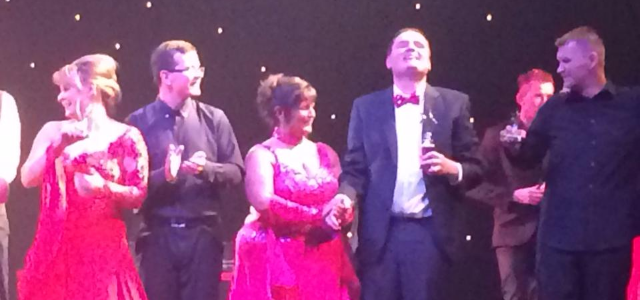 Needless to say we celebrated hard and I don't think I have come down from cloud 9 since!
A very big thank you to everyone who supported us, donated, all the other competing partners, our teachers, Doris and Gabriel and Asda for making it all happen and allowing us to have the time of our lives!
Gemma xxx